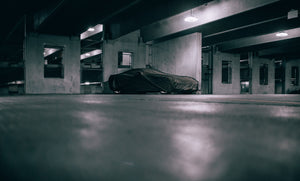 Where To Buy Custom Car Covers In Australia
Our cars are one of your most valuable possessions (well for most), so it makes sense that you'd be eager to protect it. And what better way to protect your car from harm than with a custom car cover?
A custom car cover is designed to protect your car from the elements, minor damage and of course, the habits of the local wildlife (if you know what we mean). They're also perfect for keeping your car clean, creating less work and maintenance for you. 
But let's face it, not all car covers are created equal. Car covers that are poorly made or poorly designed could leave your car vulnerable, and have you spending twice as much for a more suitable product. The solution is a custom car cover, designed to meet your vehicle's exact specifications to ensure it's fully protected.
So how do you go about getting a custom car cover? Check out our handy guide on where to buy a car cover and give your car the protection it deserves.
Why do you need to buy a car cover?
When it comes to protecting your car, you've got a lot of options to choose from. You could keep it in a garage, an indoor car park or under a shelter, depending on where you live and work. Then again, there are a lot of people who don't protect their cars at all, leaving them exposed to the elements and the local neighbourhood. 
Of course, cars are designed to withstand weather and exposure, but that doesn't make them completely indestructible. Left unprotected, your car becomes exposed to potentially dangerous weather conditions, damage from animals and people, and can generally become dirty. 
A car cover eliminates a lot of these problems. Protecting your wheels, paintwork and your windows, a car cover is an affordable investment that will save you money, and trips to the mechanic too.
Buying a cheap generic car cover
So while your first point of call might be to look up car covers on Amazon or another online marketplace, buying a cheap car cover may not be in your best interests. A cheap car cover may not have the staying power of a custom design, and is likely to need replacing more frequently. 
A cheap car cover can offer you some protection, but it may not fit your car well enough to give it the full protection it needs. While it may seem affordable, you could end up paying more money in cleaning and damage repairs due to inadequate cover.
If you're confident in your car's measurements and know the type of cover you need, you can explore quality car covers here. 
It's worth exploring the difference between cheap and quality car covers to see what we mean.
Why buy a custom car cover?
There are a lot of great reasons to buy a custom car cover, including:
A cover that's custom-fit to your car's exact measurements.

Premium protection for your car from weather, environmental damage and even damage from animals.

Spend less time applying your cover with a custom design that's built to fit your car like a glove.

Enjoy a snug fit that looks good, while still being breathable.

Have your own logo applied to your cover for complete personalisation. 
If you're willing to invest a lot of money in a car, then you should also be willing to invest in its maintenance and upkeep. A custom car cover is a small investment to make to ensure protection for your car and could even save you money in the long run with fewer washes needed and potentially less cosmetic damage too.
A custom car cover is the ultimate accessory for your car, so why not make one a part of the package of owning your pride and joy?
Where to buy a custom car cover in Australia? 
So where can you buy a custom car cover in Australia? At The Cover Shop, we are your automotive cover protection specialists. We stock a range of car covers, and provide custom options for our customers to help them find the perfect fit.
We sell covers to suit a range of sizes or if you prefer a custom option, we can help. For professional, high-quality car cover designs, you can trust The Cover Shop to kit you out. 
---